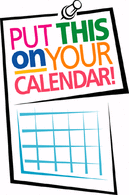 May 8: Election Day, Optional Training
May 19: Mid-America Regional Tournament, Ohio State University
May 31: SKA Kyu Exam, Anderson Dojo
Jun 4-8: NO CLASS, AHCC Vacation Bible School
Jun 8-15: Master Camp, Camp Green Lane, PA
Jul 13: Regional Training, Brown County Dojo
Jul 14: Golf Outing, Friendly Meadows Golf Course, Hamersville, OH
Aug 10-12: Michigan Summer Camp, Fenton, MI
​


---
---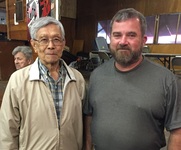 Master Camp is an annual karate camp held outside of Philadelphia, PA. Below is a great article written by one of our students about his first experience at Master Camp. He was a purple belt....

MY FIRST MASTER CAMP
BY: D Keith Meadows
August 2015

Going to Master Camp was all last minute; I hadn't expected to be going at all. However, something Sensei Jeff Weber said kept sticking in my mind and made me realize I had to make this camp. Winter had been awkward and I had not trained as well I should. I also wanted to test for my brown belt sometime over the summer and felt I wasn't quite ready.

Sensei Jeff said at one time, so few kyu ranks showed up, that they had two high ranking instructors for just the 8 of them. We had a few more in our class than that, but it kept sticking in my mind. Later he told me that he wished he had gone to camp as a kyu rank because of this and it was a great opportunity. He was right; I had to kick myself in gear and go. Master Camp is a great way to do that if you want to immerse yourself in Shotokan.

I think about 50 countries were represented but lost count somewhere in the 30's. There were many black belts there, hundreds from all around the world. The classes worked out just like Sensei Jeff said. Sensei Amin of Baltimore taught the first two classes, and he was a wonderful instructor. Then Sensei Miura of Italy, SKI/Europe and a ninth degree black belt, taught three (not in a row), with Sensei Okazaki's nephew, Hiroshi Okazaki translating every word and teaching alongside him as his assistant. They were hard but the most fun. Sensei Miura loved to say, "It is great to see you all working so hard." Well, that's because he was working us so hard! I heard that Hiroshi Okazaki could be taking over the organization someday - and here he was teaching me. It was great to have these guys and others with so much knowledge working with you. Sensei Hiroshi Okazaki was great with Sensei Miura, always sifting out the Japanese into English. Sensei Hiroshi Okazaki spoke as if he were born here, he was so clear.

I was very lucky because Sensei Kim Weber got me in Cabin 3 with Sensei Jeff Weber and Sensei Oberschlake. The rest of the cabin was occupied by the Australians. I think their Sensei was a fellow named Harry and I really liked him. Sensei Jeff was always there making sure I was squared away. Jeff showed me exercises for dealing with cramps and stiff thighs where they were hitting me. I kept hydrating and making the classes and it was not a problem.

We all sat together in the dining hall for every meal - everyone from Mid-America, which included Senseis Kim and Jeff, Sensei Vaughan, Sensei Oberschlake, Carol, and a lady whose name I think was Chiho, from Michigan. As all the Senseis came into the dining hall, we'd stand and bow. Then, the way they did the meal service was a trip! Everyone, as part of their training, had to be a waiter/waitress for 2 meals sometime during the camp. I wouldn't change a thing, although at the time I thought it seemed a bit chaotic. However, it was really perfect once you knew what was going on. My first day as a server, I didn't actually serve because I am fairly deaf and it was hard for me to figure out what was going on. The black belt who was head server that day told me just to guard the Senseis' salad bar until they had all served themselves, which I did until everyone started eating - but then the other campers swamped me. I was a pretty poor guard, I think, but luckily not all the Senseis wanted salad that meal.

Each day, Sensei Okazaki bowed us in on the tennis courts near the lake at 6:30 in the morning before we left for the daily run; basically a mile or so before turning around to go to the respective pavilions where we were working out. The kyu ranks were in the Nakayama Dome, I believe. There was the optional training before noon, and I only missed one, on Monday after the marathon run of 8 classes that weekend. I decided morning class was just fine and took care of laundry and stuff before stepping back into it for the next half of the camp, when I took 7 more classes.

Eight classes in, I was halfway through already! It was now Monday, and it was still karate 24/7. Cabin 3 was the place to be because of Sensei Jeff and Sensei Oberschlake and the Australians, as everyone came by to socialize. Sensei Vaughan and Sensei Jones and others stopped in, and it was wonderful company. The topic always gravitated to karate quickly. Our cabin floor could have been a fourth class.

I walked a bit around the camp a couple of times - it was beautiful, but realized I needed to rest so I hung out at or near the cabin, watching the kids play chess at the picnic table; the junction where everyone in the karate world walked by chatting and meeting people.

Sensei Jeff was helping Sensei Kim prepare for her tests, which was not as simple as one might have thought – she was not just showing up and taking a regular test. It was in parts, and it took up most of her time. There was more as Sensei Jeff and Sensei Oberschlake were always unexpectedly in uniform to go somewhere to some class. They never really stop training or teaching - ever.

One night, I talked to one of the older Australians as we watched Venus in the sky - at its biggest right then, more than it will be for years – as we rested in the dark on the porch of that cabin. He told me about their national flag, what it meant and how it's based on the constellation called The Southern Cross. He told me that constellations hold people together.

The younger Australians could be intense. They were always discussing technique with their instructor. Sensei Harry loved the chance to get up and work with them! You'd think they were just relaxing and talking about anything, just having a normal day, and I'd be hanging out, recovering, lounging on my bunk, when they were suddenly in an intense discussion over a move in a kata and how it should be done. They debated how it ought to be done because katas are done differently in different parts of the world. They were passionate about it but I didn't know which kata it was! Sometimes Sensei Jeff or Sensei Oberschlake would be there and demonstrate or explain something. I mean, they were a fiery bunch and wanted to know the truth about karate.

The other Australians, a team of 3 women I had watched working out on the dojo floor, came over from the women's cabin, and they worked on their team kata in the middle of our bunkhouse floor. They went through every move as if they were being judged, trying to work something out. I just watched, recovering from my last class, and ate it up.

I felt lucky as I walked about and ran into Senseis everywhere; it really meant something. I ran into both Sensei Jones and Sensei Swain as they were arriving and we talked about what camp meant to them. They all had been going for decades! I think Sensei Swain said he'd been coming for over 30 years.

The early kyus had their own class and one day at our pavilion, we were waiting for the white belt class to finish. Sensei Rielly walked up while I was talking to another kyu rank about the difficulty I was having with side snap kicks (I think kicks are my biggest weakness). I didn't realize Sensei Rielly was the instructor who was going to teach our next class, I just saw he was a black belt and asked him a question about the kick. He spent the next fifteen minutes with us discussing errors in doing the move that causes the confusion between it and the thrust kick and we had a workout before we ever stepped out onto dojo floor. They all never really stop teaching. Sensei Kim told me Sensei Rielly has even written books on Karate. I'd found one at the library and saw it on the shelf, but now I've put it on hold.

What a great set up it was, now that I think about it. I don't think I'd change a thing. Classes were fascinating because we had so many instructors. Sensei Oberschlake and Sensei Vaughan taught, as well as Sensei Cline and Sensei Jones. The most fun was probably Sensei Miura, with Sensei Hiroshi Okazaki translating. He used me as a guinea pig because I was big and weighed about 100 pounds more than him. But Sensei Takahashi was probably the one who put it to me on zenkutsu-dachi basics, which I badly needed. Really, they all focused on good stances; however, he focused on zenkutsu-dachi, laying benches on their sides to have us move between to demonstrate the stance. Sensei Jeff told me, "We see you all the time, so it's good to get people from many places looking at you."

I miss it already and - I passed my brown belt test this summer!


---