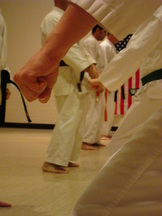 We study and practice in Shotokan Karate. Shotokan Karate is a traditional style of Japanese martial arts. It is recognized by its diligence of practicing the fundamentals, and for performing powerful, explosive techniques while exhibiting extreme control and focus.

A person's interest in the martial arts is a personal one. For some it is a parent wanting their children to gain the benefits of the martial arts – confidence, focus, respect, and discipline; for others it is an adult who sees the value in martial arts lessons for themselves, to combat stress, learn self-defense, and increase personal development. With consistent training, Shotokan Karate can provide many of the above benefits to the karateka, and more.

Our club is dedicated to teaching traditional Shotokan Karate in a positive environment. We offer a friendly atmosphere, and encourage participation from all family members. Anyone interested in joining our classes, are welcome to observe a class.


---
---
Congratulations
to Senseis Kim & Jeff Weber on their success at the
3rd ISKF ShotoCup in
Cape Town, South Africa.
They attended the ShotoCup in August representing Team USA as competitors and judges.

Sensei Kim placed 2nd in womens (over 45) individual kata and 3rd in womens (over 45) individual kumite.

Sensei Jeff placed 1st in mens (over 45) team kata, 2nd in mens (over 45) team kumite, and 3rd in mens (over 45) individual kata.

---